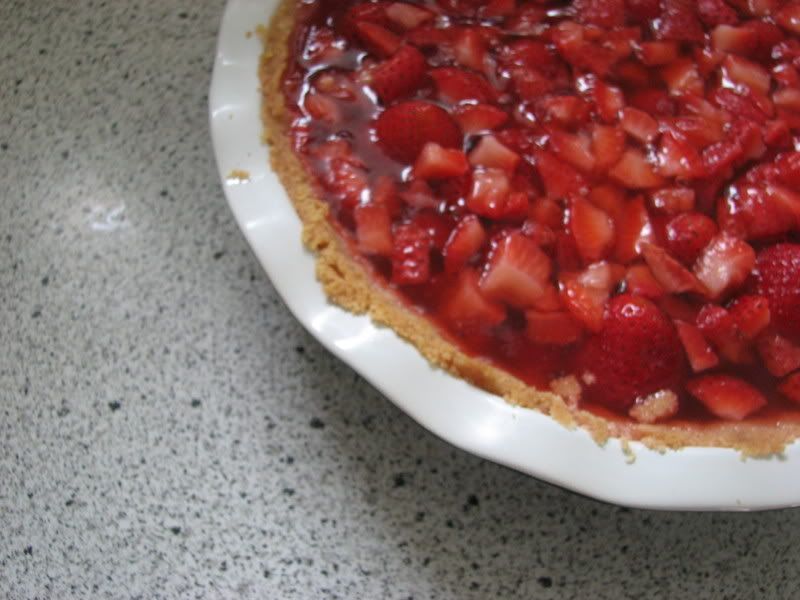 I've been a bad, bad blogger. I don't know what's wrong with me…what HAS BEEN wrong with me this entire year…all of the sudden it's august and I look back to see that my last blog was in January. Shameful, but sadly, I won't promise I'll be blogging more regularly from now on…I will hope to be, but I won't promise. For excuses, I offer lack of enthusiasm due to nonexistent photography skills, bad lighting, lack of motivation, lack of a DISHWASHER…just to name a few. Excuses excuses….just COOK something already!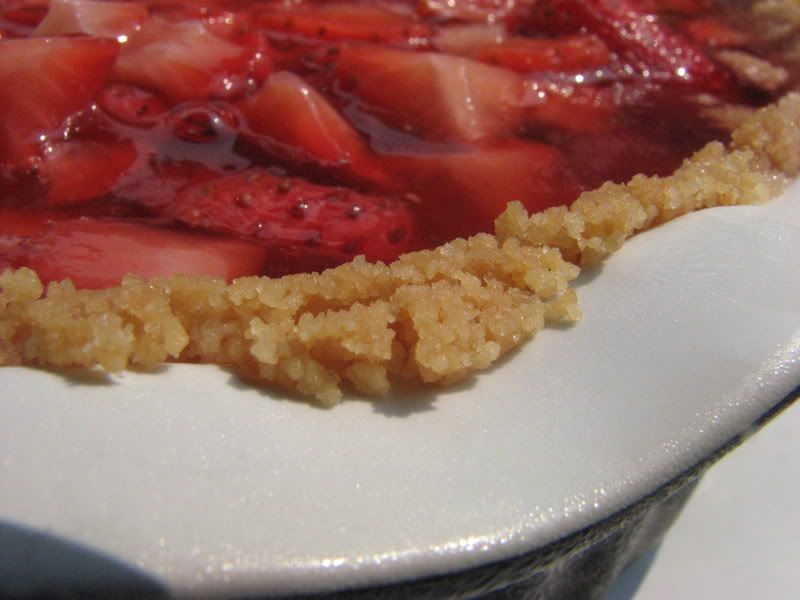 So the hit of the summer has been a strawberry pie recipe I found in gourmet magazine. I am a new subscriber and I have to admit, the first few issues I received found me almost cancelling and then…then it was late spring….something about late spring and all of the promise of summer fruits and vegetables and outdoor cooking fires me up like nothing else. The day I go to the store and see the very first peaches is one of the happiest days of the year for me. I know, get a life….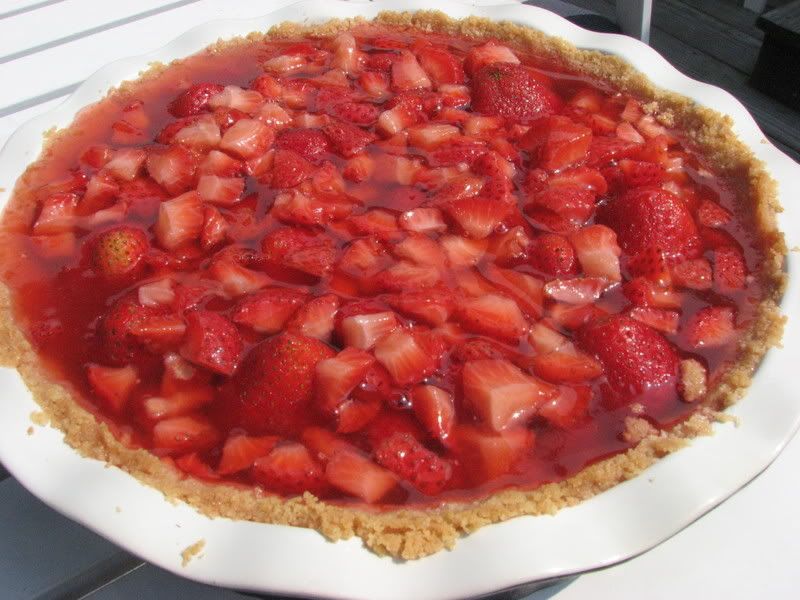 So back to this strawberry pie….I had no idea it would get such overwhelmingly favorable reviews…I mean honestly, my husband was near tears over this thing, and he's an "eat to live"-er!! so as per his request (read: begging) it has been somewhat of a constant on our table this summer, even though it is kind of labor intensive, and he has me scheduled to make it once again in the next couple of weeks when we have his family over for labor day….it's worth its weight in 'pain in the ass'….
With any luck (motivation…) I will get the oil poached halibut with tomatoes and fennel up in the next few weeks. Also from Gourmet and also a showstopper…glad I didn't cancel that subscription after all!
So here it is….fresh strawberry pie with whipped cream….
You're welcome!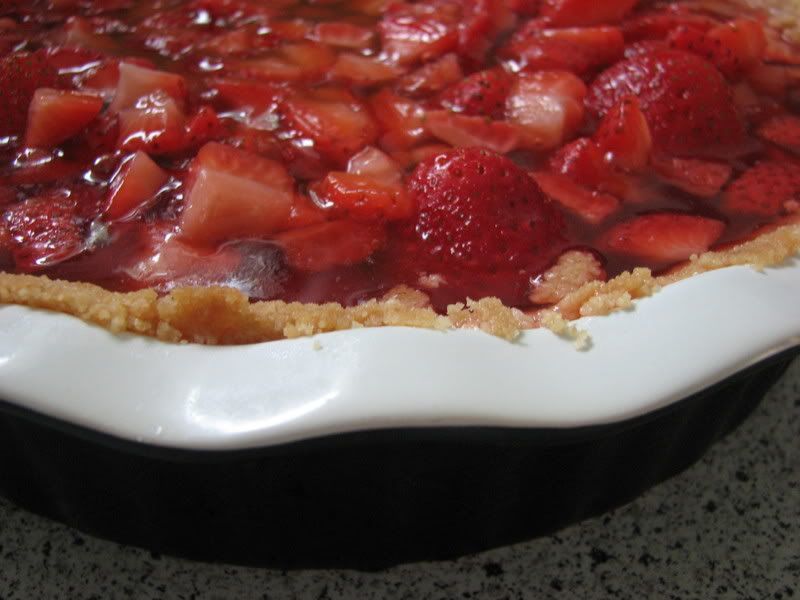 FRESH STRAWBERRY PIE WITH WHIPPED CREAM
FOR CRUST
• 1 (5-oz) package shortbread cookies
• 2 tablespoons sugar
• 2 tablespoons cold unsalted butter, cut into pieces
FOR FILLING
• 2 lb (1 1/2-inch) strawberries, hulled (see cooks' note, below)
• 3/4 cup sugar
• 1/3 cup fresh lemon juice
• 1 envelope unflavored gelatin (2 1/4 tsp)
• ACCOMPANIMENT:
lightly sweetened whipped cream
MAKE CRUST:
• Preheat oven to 350°F with rack in middle.
• Pulse cookies in a food processor to fine crumbs, then pulse in sugar and butter until combined. Press crumb mixture evenly onto bottom and up side of a 9-inch pie plate. Bake until golden, about 15 minutes. Transfer to a rack to cool.
PREPARE FILLING AND ASSEMBLE PIE:
• Select 20 large strawberries as close to same size as possible and set aside. Cut remaining berries into 1/4-inch dice and toss with sugar and lemon juice. Let stand, stirring occasionally, 30 minutes. Drain berries in a sieve set into a large glass measuring cup. Add enough water to measure 2 cups. Transfer liquid to a medium saucepan and reserve berries.
• Sprinkle gelatin over strawberry liquid and let soften 1 minute. Bring to a bare simmer, stirring until gelatin has dissolved. Add diced berries, then transfer to a metal bowl set into an ice bath and stir frequently until mixture begins to mound, 20 to 30 minutes.
• Spoon 1/2 cup filling into piecrust and arrange reserved whole berries, stem ends down, on filling. Spoon remaining filling over and between berries. Chill pie until filling is set, at least 4 hours.