There used to be a restaurant called Crocodile Cafe...I have no idea if it still exists, but one thing i do know is that my first dance with the gloriousness that is watercress happened right there on Lake Avenue in Pasadena, California. You really don't get the opportunity to have watercress very often. It's a very underestimated little vegetable. Is it even actually a vegetable?
I've been thinking about the sandwich i always used to have there since the last time I had it which has to have been over 5 years ago. The watercress at the market looked extra happy, green and fresh last week so I decided to take matters into my own hands and try to recreate the masterpiece. I think I did an exceptional job...This little yummy looks simple, and it is, but that is what makes it so good. Take the time to roast the chicken, toast the bread, make homeade mayoniase if you can and by all means, stuff as much watercress on this thing as you can fit....how often to you really get the opportunity?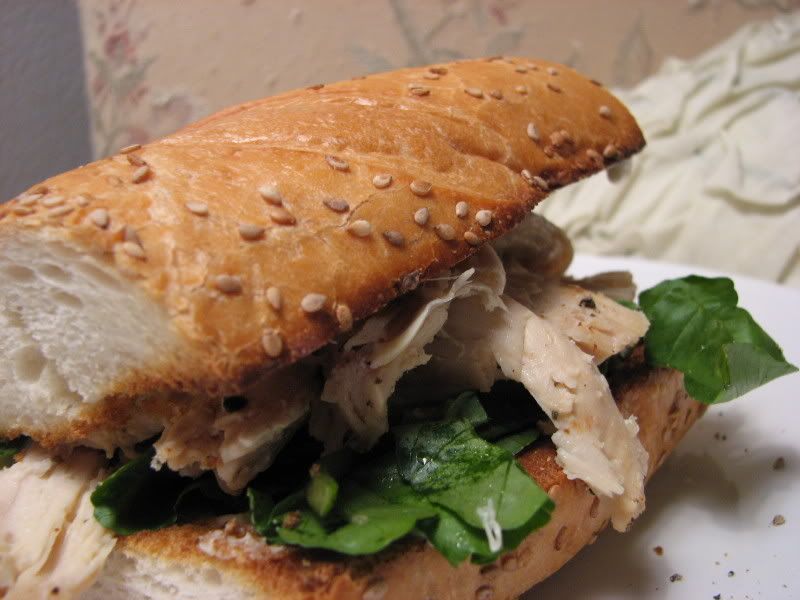 Roasted Chicken Sandwich with Watercress
1 whole chicken breast, split, on the bone with skin
1/2 - 1 cup chicken broth and/or white wine
1/2 a stick of butter
1 lemon
2 T olive oil
sea salt & fresh pepper
any combination of italian herbs...rosemary, oregano, basil, thyme etc. (I just used the little packet of spices they gave me with my takeout from Carraba's the other night that I was supposed to mix with oil and use for dipping bread...)
2 cloves of garlic
1 white onion
1 whole french or italian baguette, split legthwise and cut into 2 pieces
mayonaise (homeade is preferrable, but hellman's will do just fine)
1 bunch of fresh watercress
preheat oven to 350
rinse chicken breasts in cold water
place chicken breasts in an oven safe pan, skin side up (pyrex is my favorite. I cannot live without my pyrex)
wash your hands
pour chicken broth and/or wine in the bottom of the pan with the chicken
season the breasts with salt and pepper, sprinkle with the herbs
zest 1 whole lemon over the breasts and then squeeze the juice onto them
smash the garlic cloves and just lay one on top of each breast
chop the onion into big hunks and add it to the pan
drizzle with olive oil
cut butter into chunks and set them right on top of the breasts
stick those bad boys in the oven for 1 hour and 15 minutes. every once in awhile, baste the chicken with the broth/wine/juice combo.
meanwhile, wash your watercress and cut off their long stems.
when the chicken is done and cooled enough to touch, peel the skin back and pull the meat off the bone into chunks and shred them a bit, but not too much.
drizzle your baguettes with a little olive oil and stick them in the broiler to toast untill golden, then remove them, and spread each half with mayonaise. don't be skimpy, this is not a virtuous sandwich.
assemble the sandwiches by placing a huge handful of watercress on the top half and a bunch of roasted chicken on the bottom and then smoosh the halves together and enjoyyyyyyyyyy!!!
when you go back to the kitchen to put the dishes away, and you notice there are some pieces of chicken still on the bone that you didn't get, and the onion chunks are just sitting there all carmelized and luscious looking in the pan with the delicious juice that the chicken was sitting in, under no circumstances should you resist gobbling those little bits up. while the sandwich is unbelievably delicious, the carmelized onions and leftover chicken bits soaking in jus are the BEST part...