I've really been into the soup lately and I am loving every minute of it! I'm not gonna lie….I'm not a fan of the cold weather, even if with it comes the promise of an exquisite palette of sunset colored, softly falling leaves, fluffy, dancing snowflakes and Christmas scented Yankee candles. I'm a California girl. To me, Christmas means the temp drops to 50 and I am bundled up in cashmere scarves and wool coats. Here in New York, on my 4th real winter, they are still laughing at me and I am suffering for it….6 months out of the year, I am suffering….my only respite is finding things to cook that would be downright insane to cook in the sweltering, oppressive humidity of August. Lately, I have been distracting myself from the bitter cold (which the NY weathermen are still calling "mild"….thick blooded freaks…) by medicating myself with a plethora of rich, hearty soups and chocolate chip cookies from scratch….all in the name of winter insulation!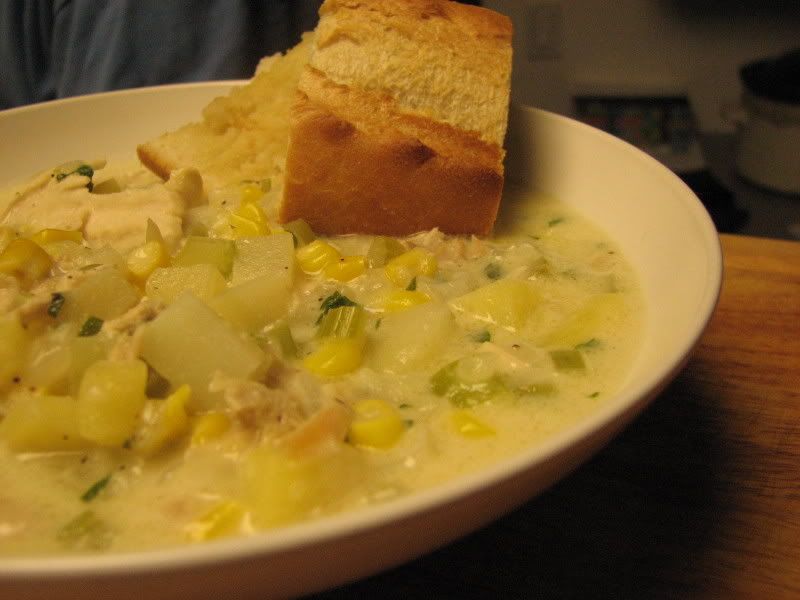 This chicken corn chowder, the recipe for which I found by doing a simple google search, turned out to be an immediate winner….a recipe I will make for years and years that I hope to be remembered by when I'm gone. It was THAT good. As with every recipe, I changed it a little by deglazing the pan with white wine. I also think that taking the extra effort to roast your own chicken makes all the difference in the world. I had never roasted a chicken before and I found it to be one of the easiest things I have ever done. The meat was so tender it practically melted in your mouth! It takes some thinking ahead, but the end result will warm your bones right through to April. Enjoy!
Old-Fashioned Pawtucket Chicken Chowder
Adapted from The LL Bean Book of "New" New England Cookery
4 tablespoons vegetable oil
1 onion, diced
2 to 3 ribs celery, peeled and diced
2 to 3 potatoes, peeled and diced
2 tablespoons chopped parsley
½ cup dry white wine
2 tablespoons flour
1 cup light cream
2 cups chicken broth
2 cups cooked chicken, diced (I used the meat from a whole roasted chicken, shredded.)
salt
fresh ground pepper
1 cup corn kernels (fresh or frozen)
Heat vegetable oil in a large pot and stir in the onion and celery, continuing to stir for about 5 minutes, before adding the potatoes. Cover and cook over low heat for about 10 minutes, and stir in the herbs. Push the vegetable off to the side and deglaze the pan with the white wine. Mix the flour with milk to make a thin paste, then add the milk and broth to the soup pot and bring to a boil. Simmer until the vegetables are tender but not mushy. Stir in the chicken and optional corn, and sprinkle lightly with salt and pepper to taste. Cook gently 5 minutes; serve hot.
I served mine with a decadent loaf of French bread that I had spread with softened butter, sprinkled with garlic powder and toasted in the oven, wrapped in foil for about 30 minutes. It was the PERFECT, indulgent accompaniment. I cannot wait to make this soup again!