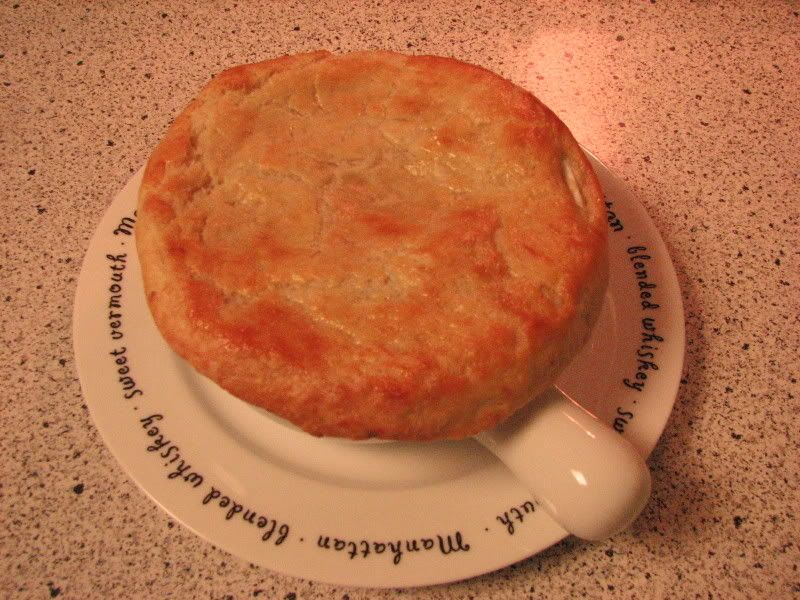 I've always loved chicken pot pie. When I was little, we used to have the swanson frozen ones and it used to frustrate the hell out of me that it took 57 minutes for them to cook in the oven. The idea of making one from scratch never occurred to me until just recently and at that point, it became more of an obsession than an idea, but that's just how I roll.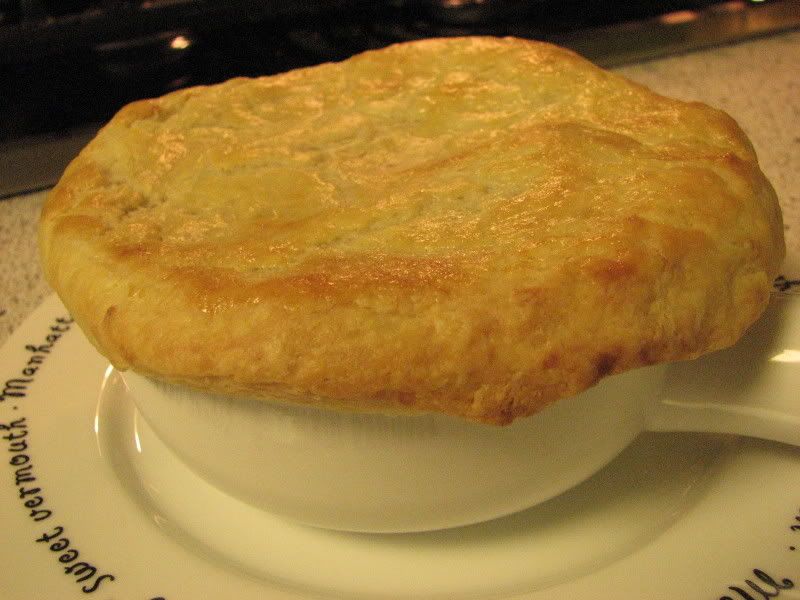 When I saw this gorgeous thing on
Confections of a Foodie Bride
I knew I had to make it immediately…as usual, I changed it up a bit and omitted a few things and added a few others, but the crust is the star of this show…..i am SO disappointed that I had my camera set to the wrong resolution because the flaky layers are not done justice in these grainy photographs. This, my friends, is comfort food at its finest….with my newly acquired expertise in all things pastry dough (ha!) and at just over an hour from start to finish if you prep your chicken beforehand, swanson can eat their heart out….it's like the difference between a gorton's fish stick and dayboat, cedar planked, maple glazed wild Alaskan salmon.
mmmmm…..now I want salmon…..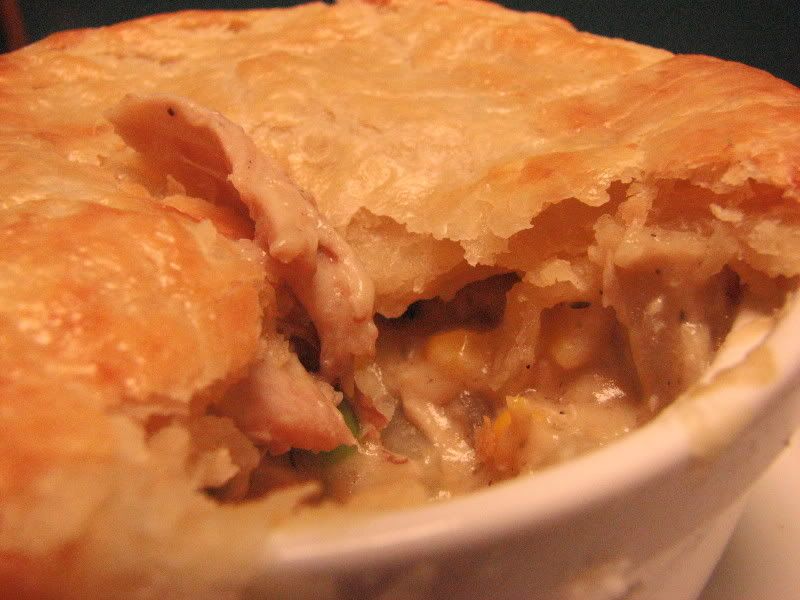 Chicken Pot Pie
For the filling:
About 3 T butter, or EVOO or a combo. I used butter.
1/2 – 1 whole medium yellow onion, chopped
1 shallot, chopped
1 stick of celery, chopped
1 carrot, peeled and chopped
1 russet potato, peeled and chopped
3 cloves garlic, minced
About ¾ cup sliced baby portobella or white mushrooms
Approx 1 tsp. dried sage
Approx ½ tsp crushed red pepper flake
Some frozen peas (1 cup? Half a cup? Whatever)
Some frozen corn
1 whole cooked rotisserie chicken or 4-6 cooked breasts, meat shredded or chopped.
Salt and pepper
For the cream sauce:
1 stick of butter (yikes)
1 cup flour
2 ½ cups of chicken broth
½ cup light cream (or whole milk)
A few shakes of franks red hot (I was out of Tabasco)
Salt and pepper
For the crust
( I made half a batch, but this is the full recipe)
2 sticks of cold butter cut into pieces
3 cups of flour
10 oz. chilled cream cheese, cut into pieces
Salt
Pepper
Ice water (6-8 TBS)
1 egg, beaten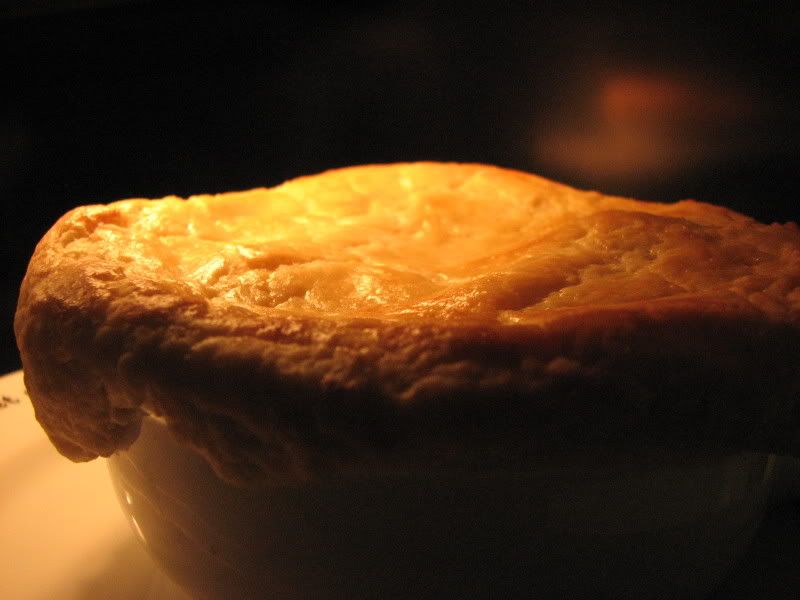 1. get the chicken cooked and shredded way ahead of time. I bought a rotisserie chicken at the market, shredded it and left it in the fridge until yesterday. It made my life infinitely easier.
2. in a really big sauté pan, melt the butter for the filling and sauté the onions, celery, shallot and carrot over medium heat until they're softened. About 4 minutes.
3. add chopped potato, garlic and mushrooms and continue to sauté for at least 15 minutes. You don't have to babysit it, just remember to stir it around every minute or so.
4. once the 15 minutes have passed, add your thyme, crushed red pepper, salt, pepper, corn, peas and chicken and turn the heat down to low. Stir it all around for a minute or two to combine everything and heat the chicken through. Now taste it to make sure it's yummy and set it on the back burner until you're done with the sauce.
5. Meanwhile, get out your sauce pot and get the stuff ready for your cream sauce. The sauce needs constant attention so if you're not adept at doing two things at once, you might want to finish the filling part first and then focus all of your attention on the sauce.
6. melt the stick (or sticks if you are doing the whole recipe) of butter in the saucepan and, with your whisk in one hand ready to go, add the flour to the butter. It is going to gob up and clump together so make sure your heat is not up too high. Medium low for right now should be fine. You don't want the flour to burn. Keep stirring it with the whish and getting the globs out and mashing them around for about a minute or two. Then add the chicken broth and milk or cream and whisk whisk whisk. Turn the heat up to medium. This will start to thicken pretty quickly, just keep whisking. Add the hot sauce, salt and pepper and taste it to make sure it's right. You want the consistency to be thicker than chowder, but not as thick as a cheese sauce. Maybe 4 minutes?
7. Add the cream sauce to the chicken veggie filling. I told you you would need a big pan. Stir it all together.
8. Preheat oven to 375.
9. Now for the crust. Put the flour and butter in a food processor and pulse until it is crumbly. Maybe 20-25 1 second long pulses. Then add the cream cheese and pulse some more till that is crumbly. Add a little salt and pepper when you add the cream cheese. Now, through the feed tube at the top, add ice water about 2 TBS at a time and pulse. After about the 4th or 5th addition, it will start to glob together and make a ball. You don't want it too wet, so when it just starts to stick together, take the lid off and form it into a ball. I would recommend actually preparing the crust a few hours ahead and letting it chill like this because it was a little sticky to roll out…
10. Take your ball and plop it on a floured surface. Flour your rolling pin and roll the crust out into a big circle. If you are using individual bowls, invert one of them in the dough and cut around it, making the circle about a ½ - 1'' bigger than the bowl. Do this for however many you are making. If you are using a casserole dish, do the same thing.
11. Fill your dishes or casserole with the creamy chicken filling and then carefully lay the dough circles on top, letting the edges flop over the dish and pushing them against the outside to keep the filling all snuggly inside. Brush the tops with the beaten egg and put the dishes on a cookie sheet.
12. Put the cookie sheet in the oven and bake for 25 minutes until the crust is the most gorgeous golden brown color you have ever seen.
13. Die happy.
by the way...this really creates a hell of a lot of dishes...