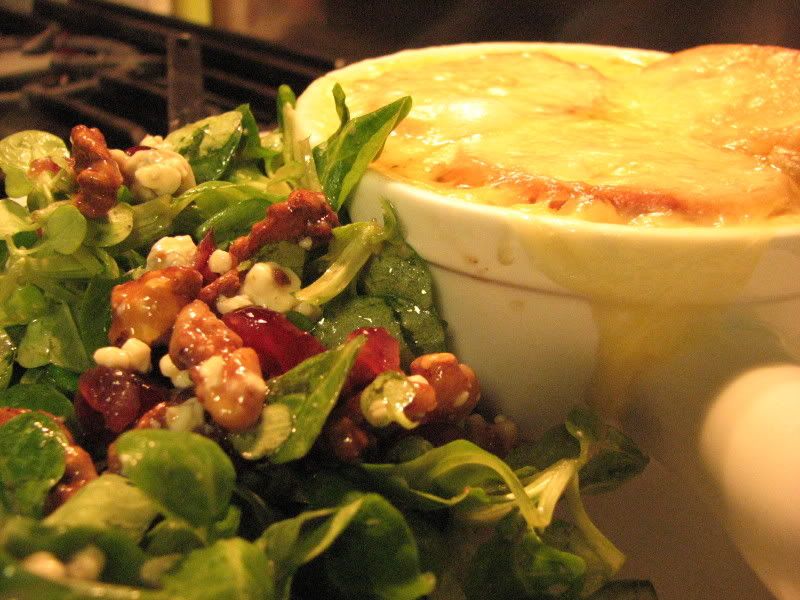 I've always loved French Onion Soup….there's not much I can say about this because it is so perfect in its simplicity….fitting, since I found and modified this from the French onion soup I found on
simply recipes
…one of my favorite food blogs…these pictures are also some of my favorite food pictures, so I will let them do all the talking. There's no language sweeter than that of cheese…..
French Onion Soup
6-8 large yellow onions, peeled and thinly sliced.
Olive oil
pinch of sugar
2 cloves garlic, minced
8 cups of beef stock (approximately)
1/2 cup of whatever dry white wine you happen to be drinking while you are cooking…what? You don't drink when you cook? We can no longer be friends.
1/4 teaspoon of dry thyme
2 bay leaves
Salt and pepper
a bunch of slices of toasted French bread
sliced swiss or gruyere cheese
If you're naughty like me, "toasting" the French bread = slicing an entire baguette, brushing it with olive oil and sprinkling it with a little garlic powder and some salt and pepper and then toasting the slices on a cookie sheet in the oven on about 350 for 15 minutes or so…..so do that and while that is happening, start your soup. Then the oven will be nice and warm for your soup when you're ready….
1. now take ALL of your onions….you will be crying and it will seem like "oh my god, this is way too many onions!" but it's not…..put them in a large soup pot or dutch oven over medium high heat with about 2-3T of olive oil in the bottom and just let them cook and cook, stirring occasionally. After about 15 minutes, sprinkle about ½ teaspoon of sugar on them…..this should take about a good 30 minutes or more. You should know when they are ready…they'll be all dark brown and soft and gorgeous!
2. add the garlic, sauté for about 3 minutes (there is no better smell in the world!)
3. add the wine and scrape up the little bits from the bottom of the pan with a whsk.
4. add the bay leaves, beef stock and thyme and bring it to a heavy simmer. Let that just go happily simmering for awhile….as long as you want, really, but no less than 30 minutes.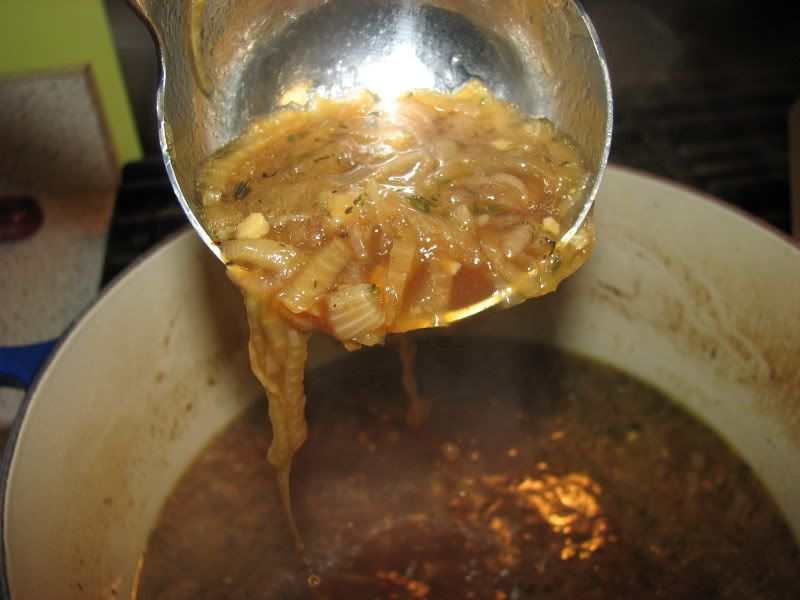 5. discard bay leaf and season with salt and pepper
6. ladle the soup into oven safe crocks and top with enough French bread to cover the top of the soup. Most recipes say to just use a slice, but my baguette was small, so I used three.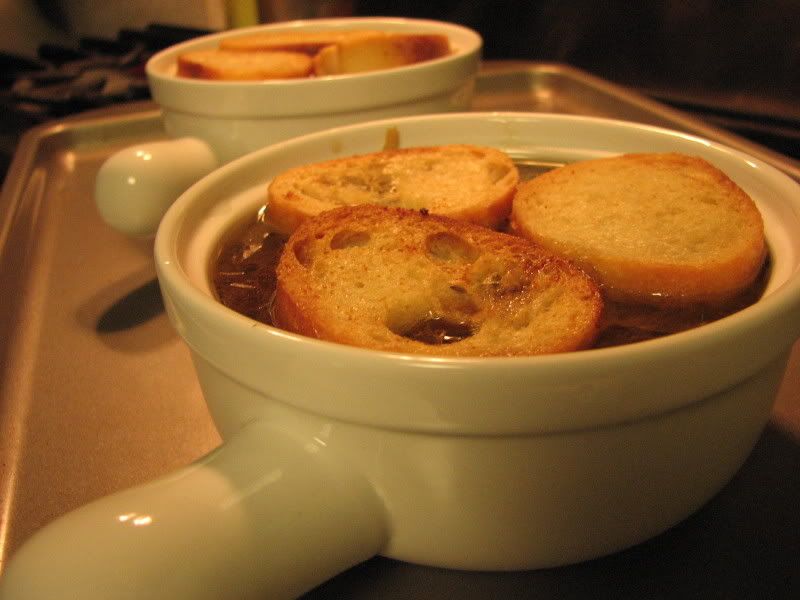 7. top the toasts with slices of swiss or gruyere. You can use shredded too, and a little parmesan if you want, but I prefer slices. Let a little hang over the side because everyone knows that the cheese that gets crusty and sticks to the side of the bowl is the best part.
8. stick the crocks on a baking sheet and put them in a 350 oven for 10 minutes or so until the cheese is browned and bubbly on top. You can use the broiler for a minute to help it out of you want.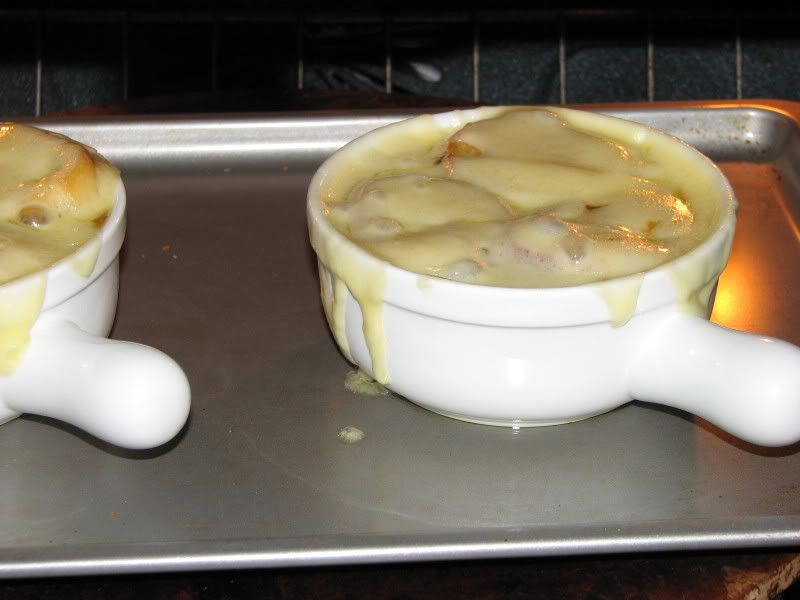 9. I served mine with the best salad ever……this soup is amazing!! Enjoy!