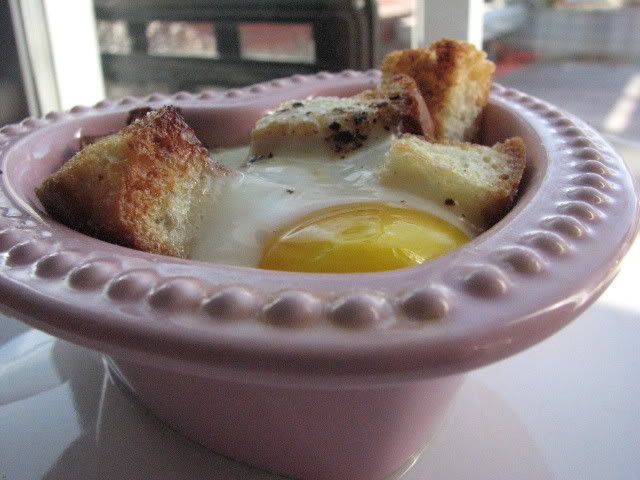 January is for a blank slate, starting anew, one more chance to try again. I have always felt like the day after your birthday would be a more sensible day to make resolutions for change, but nevertheless, I can never resist the big January 1st, gentlemen start your engines, shotgun starting line stampede….every year I resolve to eat healthier, drink less, exercise more, be more patient, read more books….but the big one is always about fitting back into my skinny jeans….
Sunday mornings are an exception to the rule, however. Sundays are special. They are for relaxing until noon and using REAL half & half in your coffee. Sundays are for comforting dishes like this delicious baked egg recipe that I found in an everyday food magazine. I still felt somewhat virtuous, since it's only one egg per serving, and the croutons really gave me that feeling of decadence and naughtiness even though I only ate about 8 of them. It was worth every moderately indulgent bite….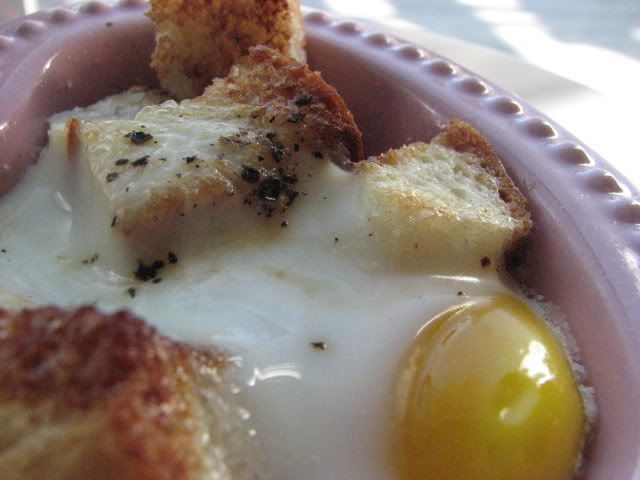 Baked Eggs with Croutons and Onions
Makes 2 servings
2 eggs
½ yellow onion, thinly sliced
A few slices of thick white bread cut into chunks (I used a day old ciabatta)
3 T butter
Salt and pepper
2T cream
Preheat oven to 375. spray 2 oven proof dishes with cooking spray or rub them with butter and set them in an 8x8 pyrex baking dish. Put water on to boil.
Melt 2T butter in a skillet and toast the bread until golden and crispy. Remove from pan and reserve skillet
Add the remaining 1T of butter to the skillet and sauté onions about 10 minutes until soft, fragrant and beginning to caramelize. Season with salt and pepper.
Divide onions among the two prepared dishes, top with croutons. Crack one egg into each dish being careful not to break the yolks. Top each egg with 1T of cream, season with salt and pepper and fill baking dish with boiling water, surrounding the dishes of eggs.
Bake in the oven for 18-20 minutes.