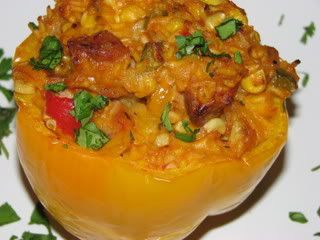 thanks to a couple of the super talented ladies on a cooking forum i frequent, i have been craving a stuffed bell pepper something fierce lately...never having made one before, or even
eaten
one for that matter, i hardly knew where to start. it did seem, however that they could be simple, outrageously delish and lend themselves easily to any kind of flavors you happened to be craving....and most importantly, of course, they are
SO
cute all stuffed and perky and festively colorful! i called in for a little help, got some great ideas and inspiration and here is what i came up with...it was one of the best dinners i've made in awhile and the best part is, there are leftovers for tonight! yay!
Stuffed Southwest Peppers
4 large bell peppers, various colors, boiled for 3-4 minutes each just to soften slightly, tops cut off and reserved, seeds and ribs removed.
yellow spanish saffron rice, cooked according to package directions subbing chicken broth for water. about1 1/2 cups cooked.
1 T. unsalted butter
EVOO
1 yellow onion, chopped
2 cloves garlic, minced
1/4 cup salsa
3 jalepeno chicken sausages, chopped (i used TJs pre-cooked, so they only needed to be heated through. if you use uncooked sausage, remove casing and brown in a pan)
1/2 cup shredded cheese
chopped cilantro.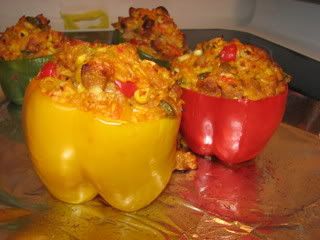 pre-heat oven to 375, flash boil peppers and cook rice. transfer rice to a mixing bowl and peppers to a plate and set aside.
chop up the tops of the bell peppers (not the stems).
melt butter and heat oil together in a heavy skillet over medium high heat.
add onions and chopped bell pepper. season with salt and saute for 3 minutes until softened.
add garlic and continue to cook for 1 minute.
add salsa and jalepeno chicken sausage and continue cooking for a minute or so to heat sausage through.
remove pan from heat and add sausage and onion mixture to rice and stir to combine. add cheese and mix untill cheese is melted.
scoop filling into hollowed out bell peppers and place on a baking sheet lined with foil and sprayed with pam.
bake for 30 minutes untill top is crispy.
sprinkle with chopped cilantro and serve.