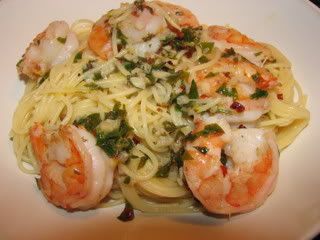 i can't even believe i am actually titling this post "shrimpalicious"...it's so sickeningly rachael ray of me. my shameful confession is that i used to love her...now i kind of want to hit her over the head with a meat tenderizer. not all the time...but let's be honest; most of it. anyway, this shrimp scampi has nothing to do with her...i whipped up this little gem last week for a quick, impromptu dinner for just my husband and myself...i stood, staring in the fridge, knowing i should be finding something to do with the chicken breasts and veggies hovering towards the end of their window of opportunity, but something about scampi was calling my name. i'd never made it before and i can say with 100% certainty that i WILL make it again. and if you know me, you know all to well that few dishes actually get made more than once in my kitchen. to quote RR and end this post as painfully as it began, "YUM-O!"
Shrimp Scampi for Two
adapted from Gourmet, April 2006
about 12-14 large shrimp, peeled and devained (i used frozen, but i think it would be better with fresh. most things are...)
3T - 1/4 cup olive oil
1/3 cup white wine (i used pinot grigio, but next time i will opt for a chardonnay)
zest of one lemon
1T lemon juice
crushed red pepper flakes
3 cloves garlic, minced
1/4 cup chopped flat leaf parsley
1-2T unsalted butter
salt and pepper
while you are making the shrimp, boil and salt a pot of water and cook 1/3 box of whatever long noodle you like. i used angel hair because that's all we had. next time i will use linguini. when the pasta is done, reserve 1/4 cup of pasta water.
in a heavy skillet, heat olive oil over medium - medium high heat
season shrimp with salt and pepper and add to pan. saute untill pink and firm. 1-2 minutes per side. do not overcook.
remove the shrimp from the skillet with a slotted spoon and set aside.
to the shrimp pan, add the minced garlic and saute untill fragrant. about 30 seconds. add lemon juice and wine and cook to reduce just a pinch. add crushed pepper flakes (to taste), lemon zest and parsley. add butter and cook untill just melted. add the cooked shrimp back to the pan and and add pasta and as much pasta water as is needed for desired consistency of the "sauce".
serve with parmesan or without....simple and delicious!