i've been away for longer than i expected to be and as predicted, have been suffering from cooking depression. it's cyclical...but nothing brings you back in the spirit quite like a batch of the world's most perfect cupcakes. i made these for my good friend michele's birthday and with the very first lick of the frosting covered beater, all was right with the world...i halved this recipe because i only own one muffin tin and because we weren't expecting an entire football team. the golden rule with these is: when you think you are done whipping the frosting, keep whipping. and i mean whip till your mixer is blue in the face. even after the 2nd time you think you must CERTAINLY be done for sure this time, still whip more. i'm talking at least 10 minutes of straight whipping. you'll thank me later...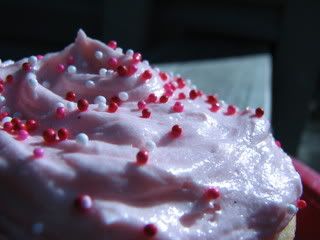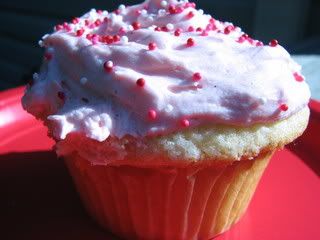 From The Magnolia Bakery Cookbook
for the cakes:
traditional vanilla birthday cake
1 cup (2 sticks) unsalted butter, softened
2 cups sugar
4 large eggs at room temperature
1 1/2 cups self rising flour
1 1/4 cups all purpose flour
1 cup whole milk
1 teaspoon vanilla extract (do NOT use "imitation")(i subbed Madagascar Vanilla Bean Paste from Williams Sonoma and it rocked my world in this recipe...)
preheat oven to 350 degrees
line two 12 cup muffin tins with cupcake papers.
in a large bowl, on the medium speed of an electric mixer, cream the butter untill smooth (they say to do this for longer than you think necessary). add the sugar gradually and beat untill fluffy, about 3 minutes. add the eggs, one at a time, beating well after each addition and scraping down the sides of the bowl occasionally. combine the flours and add in four parts, alternating with the milk and vanilla extract, beating well after each addition.
spoon the batter into the cups about three-quarters full. bake untill the tops spring back when lightly touched, about 20-22 minutes. remove cupcakes from pans and cool completely on a rack before icing.
makes 24 cupcakes
for the icing:
traditional vanilla buttercream
1 cup (2 sticks) unsalted butter, very soft.
8 cups confectioners sugar
1/2 cup whole milk
2 teaspoons vanilla extract (do NOT se "imitation")(Madagascar Vanilla Bean Paste here as well)
place the butter in a large mixing bowl. add 4 cups of the sugar and then the milk and the vanilla extract. beat untill smooth and creamy. gradually add the remaining sugar, 1 cup at a time untill icing is thick enough to be of good spreading consistency (you may very wellnot need all the sugar). whip even longer to make it extra creamy. the longer you whip, the creamier it gets. if desired, add a few drops of food coloring and mix thoroughly. use and store icing at room temperature, as icing will set if chilled. can store in an airtight container up to three days.