my dad is the best cook i have ever known. watching him cook my whole life, it has always seemed effortless. the way they say motzart was with the piano. i know that's a trite comparison, but it's very appropriate. when i was little, he invented some kind of chicken that i believe was stuffed with swiss cheese and some other combination of positively delectable things. i loved it so much, he named it "chicken rachel". pasta primavera, homemade chicken soup, filet mignon and lobster, chateau briand in puff pastry with little tiny , handmade, leaf shaped puff pastry accents on top and roasted baby root vegetables, roast beef and yorkshire pudding, vanilla bean creme brulee...and trumping them all, his mom's apple pie. one of my most frightening childhood memories was when i got caught one night, about 11 years old, crouching down in front of the refrigerator in the dark, fork in one hand, guilty look on my face, cheeks packed full of the apples i had so expertly and evenly (so as not to leave a trace) gobbled up, leaving a rim of empty pie shell. my daddy came around the corner and found me. it got ugly.
when my brothers are hungry (they're teenagers. they are always hungry), instead of asking "do you want to call domino's pizza?" he says things like "do you want me to fix you a chicken ceasar wrap?". bless his heart. this is my favorite of his impromptu snacks...the pictures i have taken don't do it justice.
my daddy's bbq chicken quesadillas
grilled chicken breasts, cutlets or tenders, chopped and cooled
burrito size flour tortillas
monterey jack cheese, shredded
jalepeno jack cheese, shredded
red onion, sliced thin
cilantro, chopped
honey bbq sauce (bottled is more than fine)
homemade guacamole is optional, but i always serve it with these because that's what my dad does. he makes his guac with chipotle tabasco, lime juice, cilantro, red onion, tomato and a tiny squirt of mayo. gives it a great, creamy consistency.
place a tortilla in a nonstick skillet over medium high heat. sprinkle with a combo of both cheeses and wait for it to start melting a little. then sprinkle half of the tortilla with the grilled chicken, cilantro and red onion. drizzle with bbq sauce, but not TOO much sauce, because these can get messy if you're too generous with the filling. once the tortilla is good and toasty and the cheese has fully melted, take a spatula and flip the side that only has cheese on it over on top of the filled side and press down like this: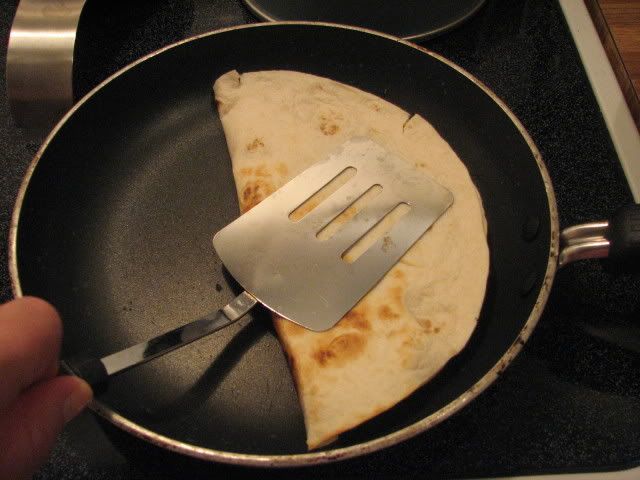 remove, repeat untill you have as many as you want and cut each half circle into pieces and serve with guacamole and sour cream...these can also be kept warm in a 200 degree oven while you are working on the rest of them if you like. enjoy!!