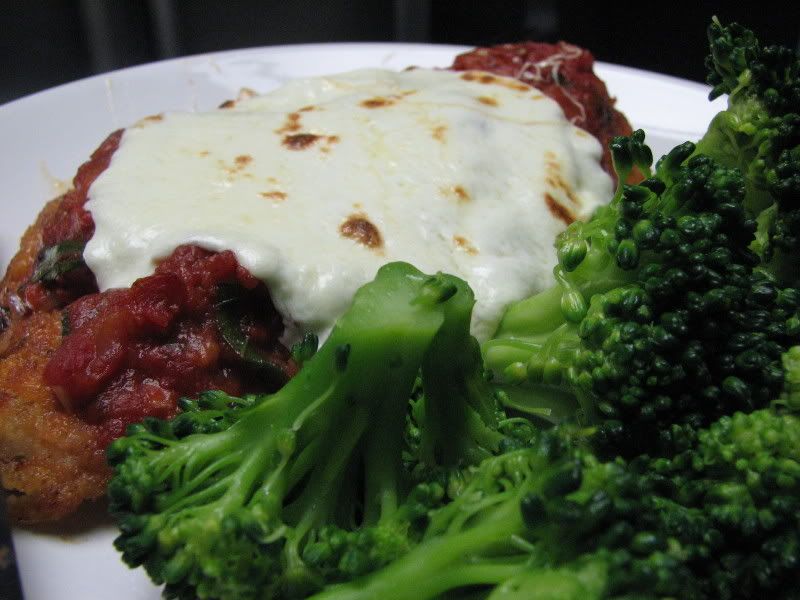 The last 4 weeks have been completely consumed with all things moving. There are both good and bad things about being able to take your time moving from one place to another...one of the worst obviously being that pesky double mortgage thing, but also simply that the more time you have, the more you take and things tend to get drawn out...blogs tend to get neglected, you tend to eat 20 frozen topp's hamburgers on the grill in 1 week with ketchup flavored potato chips on the side because you can't find your friggin' wok...things like that....
My new oven, however, makes me so positively gleeful I think I might never want to eat out again! If it weren't for the lack of a dishwasher in our new house (how bizarre), I could gaurantee that! It is a gorgeous and substantial kitchenaid stainless beauty and everything comes out as if angels were inside of it just whistling and dancing on the food. It makes me want to sing! What makes my husband want to sing, however, is chicken parmesan....he loves it. Obsessed to the point it is sort of a joke with his friends. We go out for Chinese and they ask "what are you ordering Scott? A chicken parm hero?" I had never attempted to make it before but it seemed fairly simple so I gave it a shot...I glanced at a few recipes on the web and decided just to wing it and I'm glad I did....this was the best thing I have made in a long time!
Enjoy!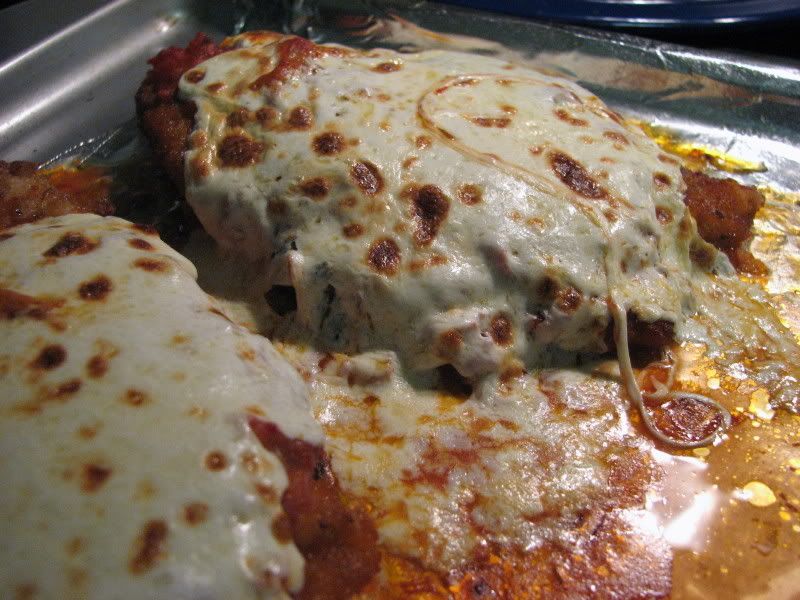 Scotty's Favorite Chicken Parmesan
For the chicken:
4 chicken breast cutlets, about 6 oz. each.
Flour, salt & pepper
2 eggs, beaten with about 2T water
Italian breadcrumbs
Grated parmesan cheese
Half a ball of sliced, fresh mozzarella (please don't use polly-o)
For the sauce:
1 large can crushed tomatoes
1 small can tomato sauce
3 cloves garlic, minced
½ yellow or white onion, minced
1T dried oregano
½ T dried rosemary
Pinch of crushed red pepper
About ¾ cup of chiffonade or torn basil leaves
Olive oil
Sauté garlic and onions in olive oil until fragrant and onions are translucent. Add oregano, rosemary and crushed red pepper and both cans of tomatoes. Simmer over medium heat for about 10 minutes and then stir in basil and season to taste with salt and pepper. Let the sauce continue to simmer over low heat while you prepare the chicken.
Preheat oven to 350
Set up a cookie sheet or sheet pan covered in foil and sprayed with nonstick cooking spray next to the stove.
Set up 3 bowls or casserole dishes. One with flour, salt & pepper combined, one with the egg and water mixture and one with the bread crumbs and parmesan cheese.
In a large sauté pan or nonstick skillet, heat about ¼ cup olive oil over medium high heat until it shimmers. One at a time and working in batches so as not to crown the pan (I did 2 at a time), dip each cutlet first in the flour mixture, then the egg mixture and then the breadcrumbs making sure to thoroughly coat with each layer even if it means pressing the chicken into the mixture, and fry about 3 minutes on each side or until the breading is golden and crispy. Move cutlets to sheet pan and top with more grated parmesan, 1 ladle of sauce and a thick slice of mozzarella cheese. Bake for 15 minutes and then switch to broil for 5 minutes more until cheese is golden and bubbly. Serve with buttered pasta or veggies…we chose broccoli. Yum!