alright....i can only guess, but i am fairly certain it has taken me almost a full week to post about these glorious apple cinnamon brioche buns because that is how long it is taking my poor body to come out of shock over the 4 lbs of butter i consumed....either that or because that is approximately how long they took me to make. one or the other. either excuse is fully applicable. they were worth every single second of waiting, every minute of standing, sweating over the insanely hot oven on a 92 degree day (at least the dough rose quickly!), every HOUR of waitng for the dough to rise, then slap it down, rise, then slap it down....
i don't believe i have ever received the amount of fanfare for something i cooked that i received upon the unveiling of these little beauties....unfortunately, the road to heaven was occasionally a rocky one...i learned a few things that will make the next batch a little easier on the blood pressure. the caramel sauce took much longer to come together than i expected....while it was worth the time it took, i really misjudged my timing and the buns had cooled before i could put the sauce on them and then i had to run out of the house because i was late, so rather than being able to make a beautiful presentation after my 22 hours of work, i had to just throw the icing on and run out the door, which is why i am only posting a picture of the unbaked buns. the finished project was, while being a festival of unprecedented deliciousness on the tongue, not so hot to look at. but the unbaked buns are pretty cute, regardless. i had to really fight the urge to just stick my hand in the dish and SQUSH them...the recipe is from
Peabody
, who i currently deify.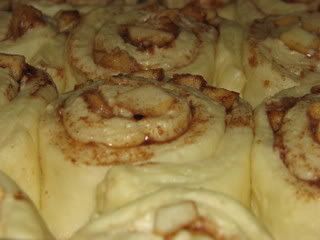 of course, there was also the butter incedent....
upon waking with a wicked hangover after drinking almost 2 bottles of wine while waiting for my dough to rise the night before...slap...rise...slap, i found that i had to get on the ball quickly to get out of the house with these little bundles of joy by 1:00 for a party at our friend's house....but of course, the plugra was hard as a rock. i'm pretty smart you know? OF COURSE metallic things like gold butter wrappers cannot go in the microwave!! what kind of dummy would think they can?? so since i am so smart, and i just needed the butter softened and not fully melted, i wrapped my stick of butter in a paper towel first to TRICK the microwave into thinking there was no metallic wrapper. as smart as i am, the microwave is STILL smarter....and after huffing and puffing and resorting to THROWING a jug of water into the oven, the fire was put out, the butter was saved and i lived to tell about it.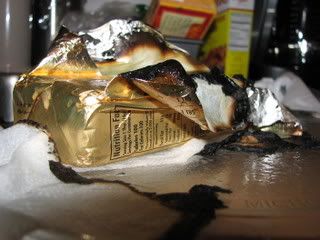 buns...glorious buns....i have a feeling i will be making these for every winter holiday for years to come.